The kitchen is the place where all great gatherings end up. This special house room should be designed to suit multiple functions. We share with you the designer-approved kitchen trends for 2020.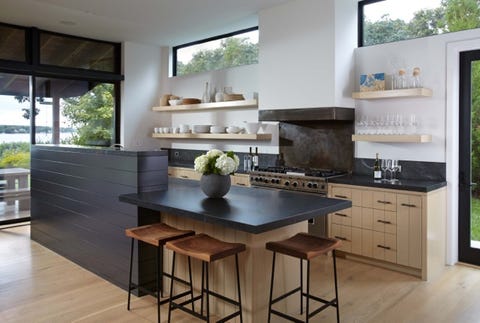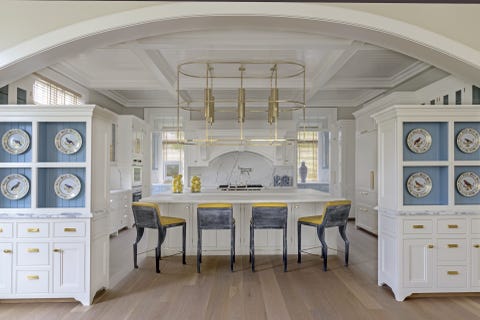 2. CLEAN LINES, NO CLUTTER KITCHEN. Definitely, White Kitchen is the Top One Trend this year. Designers are looking for details to keep clean lines.
"The beautiful blue in the cabinets adds color without being loud. The bronze light fixture and hardware along with the pops of yellow add warmth to an otherwise cool palette."
Achille Salvagni Atelier
3. HIGH-PERFORMANCE COUNTERTOPS. Do the right countertop selection is really important for Kitchen Design.
"There is a big move away from marble countertops as people want surfaces that are beautiful but not vulnerable to staining. It's a kitchen you can really use." Michelle Gerson Interiors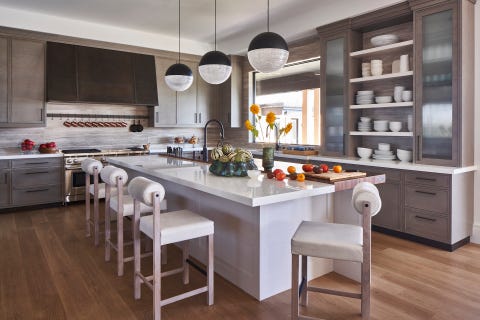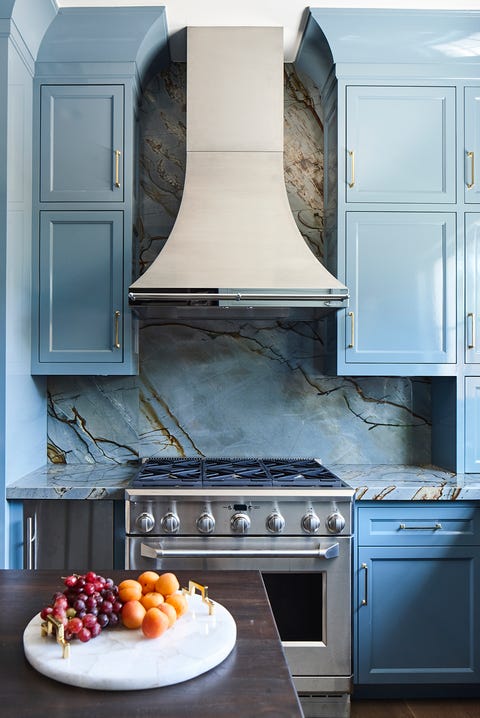 4. COMPLETE SLAB BACKSPLASH. If you kitchen has a Wall Hood you can take advantage to add a special wall style by using the same countertop material as backsplash. The uniform design idea is not bored if the slab has movement and color.
"A slab backsplash is so clean, yet it adds the right amount of drama to a kitchen." Bailey Austin Design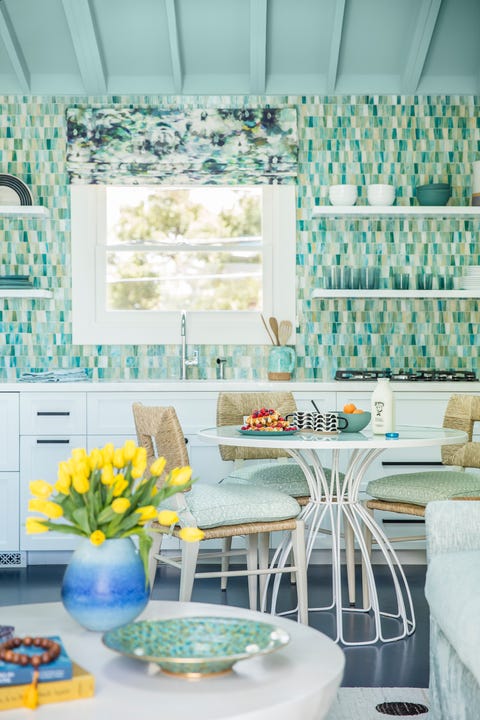 5. COLORFUL KITCHEN TILE.
If you like plain cabinets and counter-top colors, you can personalize your kitchen design by selection a touch of color materials for back-splash and furniture.
"A backsplash is the best place to add a pop of color into a kitchen design without having to do a full kitchen renovation. While white kitchens will always be in style, people seem to be taking more risks with color and design these days."
Christine Markatos
6. UPDATED CLASSIC STYLE. Always use a classic style for a New Kitchen is a smart decision when you design a contemporary look. Neo Classic details as handles, faucets, glass, lamps, and backsplash will bring the perfect modern touch.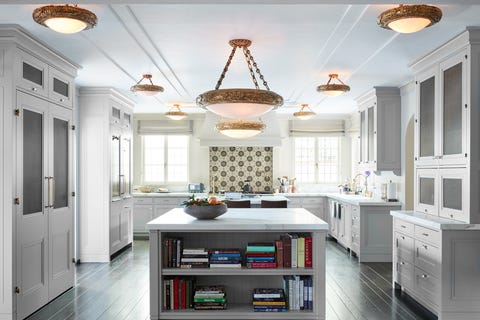 "Updated classic design for kitchens, amping up the glamour factor without making you feel oddly out of place having coffee in a bathrobe." Jeffry Weisman
7. UNEXPECTED COLOR POPS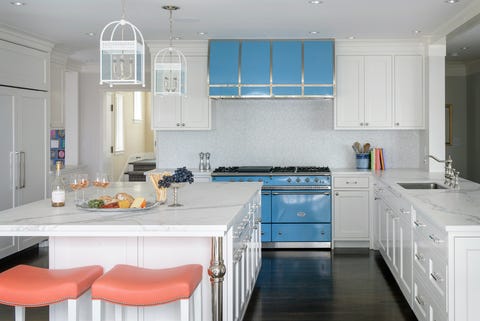 Shaker Door Style is that experts recommend when you are looking for modern cabinetry but keeping a conservative design. Additionally, you can put your signature with unexpected color places.
"Using color in unexpected places like appliances and hoods. If you love color, it's a fun way to incorporate it and make a regular appliance feel special and custom." Julie Massucco Kleiner and Melissa Warner Rothblum
8. GRAVITY-DEFYING ISLANDS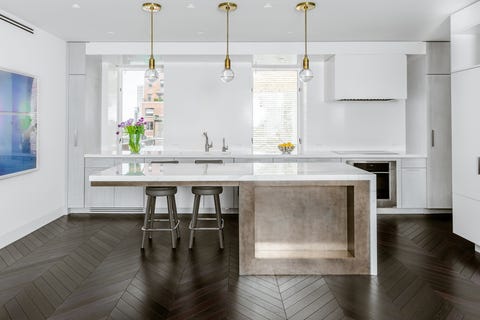 "I have been drawn to gravity-defying islands. With these unique islands, the functional elements of the kitchen recede to reveal more space and become an extension of the architecture itself. They can also have a chameleon effect, bridging the gap between classic, prewar architecture and more contemporary-feeling spaces." Karen Williams
9. OPEN SHELVING FOR DECOR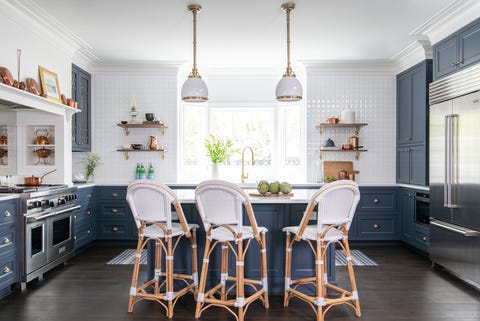 "There has been a long-running trend of open shelving for dinner and glassware. Now, I like seeing kitchen shelving that holds antique cookware, gilded vintage glasses, and copper pots baring their patina. Blending old-world with modern appliances is so warm and inviting."
Laura Umansky
10. CUSTOM SELECTIONS
As designers and Remodeling Company we think that the best trend is to renovate your Kitchen using common sense, follow your instinct, and bring it your own personality. Finally, the Kitchen is the place where you share special moments with your family, neighbors, and friends. You need to feel comfortable with your Kitchen Layout, color, materials, and functionality.